The article is a Stub!
Yuuko is yelling because this article is not complete

Please expand the article as well as you can!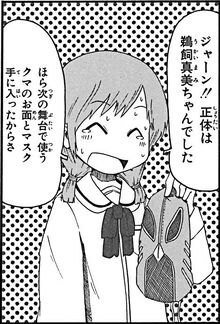 The prototype Nichijou featured Mio as the protagonist and was comprised of two chapters. The early versions of Mio (who looks similar to her current appearance only with her hair down) and Yoshino (unnamed at the time) appear with in the prototype. Another prototype character, known as Ukai Mami (shown right) is shown to be a friend of Mio. She now makes brief appearances throughout the current series and is known as Ogo. The two chapters from the prototype were later remade with the current characters in Volume 2. The remade chapters also appear in the anime as the "Sprinter" and "Mio's Cake" sketches.