Nichijou No Machi (日常のまち, My Ordinary Life In Town) is the third character image song for Mai Minakami
Clip
Nichijou No Machi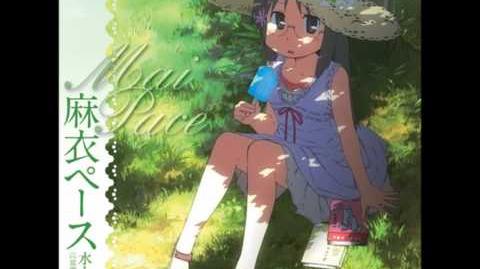 Lyrics
There might be some mistakes in the original lyrics; discrepancies found so far:
Third phrase: がする (ga suru) is sung as (ma-suru) - lyrics remains the same.
Tenth phrase: 松茸 (matsutake) is sung as (shiitake) - lyrics changed to 椎茸.
The English translation is incomprehensible at the moment, with some references to:
Episode one whereby Yukko was pelted by kokeshi, akabeko and salmon.
Deer wrestling
Crayon shin-chan
知らない街へ
行ってみたいよ 果てまで

知らない誰かと 知らない誰かが
振り向きざまにラリアット
お魚くわえた子猫に
大きな声で Say Hello

怯えた顔で 噛みつかれたら
焼きそばパンの味がする

青空抜けて紅鮭 当たりはこけし
光差し込む校舎の裏で
鹿とガチンコレスリング

どんな楽しい
待っているかな この街
こちらと思えば 今度はあちら
素敵な風に誘われて

たんけん発見 日常のまち

誰なのかしら
私を呼ぶ あの声

勝ち気なあの子と 気弱なあの子が
出会い頭にボディプレス

引きだし開けて出てくる
未来のロボット nice guy

気まずい空気が 流れた後は
甘食(あましょく)食べて仲直り
椎茸狩りに行きましょう
碁石とボールで
藁人形を拾ってみたら
納豆入りで まあ大変

あなたの街は
どんな街なの 教えて

嫌いなフリして ホントは好きよ
天の邪鬼なの許してね

たんけん発見 日常のまち

いつもの街で
歩いてみるの 果てまで

男も女も 老いも若いも
皆まとめて DDT

クレヨン好きな少年
お尻丸出し oh! my god!!

げんこつ喰らって 涙のあとは
バームクーヘン桂剥き

仏像彫ればスマイル 大福被って
少し憂鬱そんな時には
犬がお手して慰める

今日も楽しい
待っているのよ この街

見つけにいこう さあ行きましょう
素敵な風に誘われて

たんけん発見 日常のまち
Shiranaimachi e (humming)
itte mitai yo hate made

Shiranai dare ka to shiranai darekaga
furimuki zama ni rariatto
o sakana kuwaeta koneko ni
ōkina koe de SAY HELLO

Obieta kao de kamitsuka retara
yakisoba pan no aji ga (ma) suru

Aozora nukete benizake atari wa kokeshi
hikari sashikomu kōsha no ura de
shika to gachinkoresuringu

Don'na tanoshī (humming)
matte iru ka na kono machi
kochira to omoeba kondo wa achira
sutekina kaze ni sasowarete

Tan ken hakken nichijō no machi

Darena no kashira (humming)
watashi o yobu ano koe

Kachikina ano ko to kiyowana ano ko ga
deaigashira ni bodipuresu

Hikidashi akete detekuru
mirai no robotto NICE GUY

Kimazui kūki ga nagareta ato wa
amashoku tabete nakanaori
shiitake gari ni ikimashou
goishi to bōru de
wara ningyō o hirotte mitara
nattō-iri de mā taihen

Anata no machi (humming)
wa don'na machina no oshiete

Kiraina furi shite honto wa
suki yo amanojakuna no yurushite ne

Tan ken hakken nichijō no machi

Itsumo no machi de (humming)
aruite miru no hate made

Otoko mo on'na mo oi mo
wakai mo mina matomete DDT

Kureyon-sukina shōnen
o shiri marudashi OH! MY GOD!!

Genkotsu kuratte namidanoato wa
bāmukūhen katsuramuki

Butsuzō horeba sumairu daifuku kabutte
sukoshi yūutsu son'na tokiniha
inu ga o te shite nagusameru

Kyō mo tanoshī (humming)
matte iru no yo kono machi

Mitsuke ni ikou sā ikimashou
sutekina-kaze ni sasowarete

Tan ken hakken nichijō no machi
To go sightseeing to the corner
of an unknown city

Unknown someone and unknown someone are
The lariat to turning around Zama
The kitten you make your fish
Say Hello in a loud voice

Once I bit in the frightened face
To taste of yakisoba bread

Pelted by (sockeye) salmon under the blue sky, hit by kokeshi
In the back of the school building that plugs light
earnestly wrestling against a deer

What fun
It is kana this town waiting
There is now if think that here
By being invited to a nice wind

Exploration discovery everyday town

I wonder who
calls on me

Is unyielding of that child and timid that child
The body press to a crossing

Come out and open drawer
Future of robot nice guy

After the awkward air flows
Amashoku to eat reconciliation
Let's go to the shiitake (mushroom) hunting
In stones and ball
Why do not you pick up a straw doll
Well very natto into

Your city
Tell us what city of the

Really by hate unfavorable liked
Forgive it perverse of

Exploration discovery everyday town

In usual town
To the ends and of try to walk

Man and women and old and younger
Everyone together DDT

Crayon favorite boy
Ass bare oh! My god !!

After the tears clutch fist is
Baumkuchen Katsuramuki

It suffered Smile Tai Fook if love Buddha statue
When such a little melancholy
Comfort dog to your hand

Fun today
This town is gonna waiting

Let's go Come on Let's go to find
By being invited to a nice wind

Exploration discovery everyday town
Community content is available under
CC-BY-SA
unless otherwise noted.