Mother Naganohara
Information
Japanese Name:
みおの母
Romanized Name:
Mio no haha
English Name:
Mio's Mother
First Appearance:
episode 23 (Mio's Flashback)
Affiliated:
Mio Naganohara(daughter)
Yoshino Naganohara (daughter)
Japanese VA:
N/A
Mother Naganohara, Mio's and Yoshino's mother. has a young appearance. her scene was only shown while she's gave birth to Mio on Mio's flashback (Episode 23). and finally, she make a appearance on manga volume X.
Mio's mother known can play Sepak Takraw.
Personality
her personality pretty much like Nano, Izumi Sakurai, and Tamamura. also, she's not really good to keep a promise and spoiled it.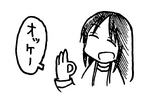 Community content is available under
CC-BY-SA
unless otherwise noted.