怪獣のバラード (Kaijuu no Ballad) is an ending-credits song from Episode 17 of Nichijou performed by Yukko, Mio and Mai.
About This Song
Kaijuu no Ballad [Monster Ballad] first appeared on Stage 101, a variety show airing on Nippon Hōsō Kyōkai (Japan Broadcasting Corporation), sung by the program's youth chorus, Young 101. The song remains popular in elementary and junior high school choral contests.[1]
Clip
Kaijuu no Ballad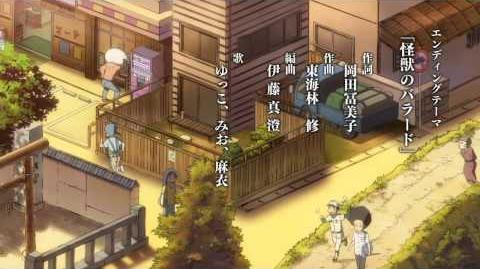 Lyrics
真赤な太陽 沈む砂漠に
大きな怪獣が
のんびり暮してた
ある朝 目覚めたら
遠くにキャラバンの
鈴の音聞こえたよ
思わず叫んだよ
海が見たい 人を愛したい
怪獣にも 心はあるのさ
出かけよう 砂漠すてて
愛と海のあるところ

あたらしい太陽は燃える
愛と海のあるところ
References
↑

A sample on Youtube, watch: VwMbRVNsxZo
Community content is available under
CC-BY-SA
unless otherwise noted.