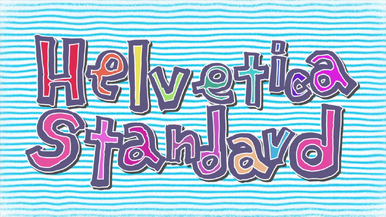 Helvetica Standard is a 4-koma (four cell manga) random comical short that is self-contained, and generally outside the main story of Nichijou. In the anime, the only connection to the main story is that Yuria Sekiguchi is always reading this, and other characters like Sasahara are seen reading it too. However, many of the Helvetica Standards feature characters from Nichijou and are in the anime as regular shorts.
Its name is derived from the Helvetica font family, specifically the obsolete "Helvetica Std" font.
Characters

A cheerful First Class Angel with short blonde hair. She likes Bavarian Cream.
---
Mono Eye
The docile underling of Pino. She is a Second Class angel with long blonde hair and an X shaped eyepatch covering her right eye.
---

A 27-year-old Office Lady. She says "Arama" and gets her nickname from it, although she tries to not say it as much.
---
Waseda-chan

A 2nd-year student at Megashira High. She has long blonde hair and a challenging spirit.
---
Hasegawa

A part-time employee who works at Tico Mart for 600 yen an hour. He has short blue hair and respect for the full-time employee.
---
Death

A dimwitted reaper who doesn't know what KY means. He gets his scythe taken by the Tengu.
---
Tengu

An extremely impoverished Tengu living in an apartment. He broke and tried to steal the reaper's scythe.
---
Namahage
A Namahage with a kitchen knife. he can't talk like a normal person.
---
Yumi and Emi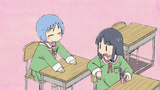 Yumi : A girl who has a crush on a boy named Takashi.
Emi : A rich girl who can't keep her promise.
---
Goto and Seki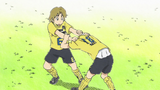 Goto : Fought his way from being a company worker to a pro athlete.
Seki : A man who Has almost zero intuition to guide him toward the goal post.
Manga
Trivia
Nichijou's logo is written in the Helvetica typeface.
The creator of Nichijou (Arawi Keiichi) is the creator of the Helvetica Standard manga.
The track runners from No. 12 reappear in later chapters playing the sport their notes state they are good at. Goto reappears in No. 29 as a soccer player and Nakamura reappears in No. 33.
Sekiguchi can be seen reading No. 11 in "Nichijou Episode 6", Igo Soccer Part 3.
In the English version, Helvetica Standard named "Helvetica Standard Bold" for the first volume and "Helvetica Standard Italic" for the second one.
References
Community content is available under
CC-BY-SA
unless otherwise noted.