Haruna Annaka
is a girl in the same class as four of the main characters,
Yuuko Aioi
,
Mio Naganohara
,
Mai Minakami
, and
Nano Shinonome
. She mostly appears in
gags
that are not in any way related to the main cast.
Appearance
Annaka has blonde hair and a large red ribbon on her head. At Tokisadame Highschool, she's wearing her school uniform. Outside of school, she can be seen wearing plain clothes.
Personality
Annaka is a bright and happy character, but she is often seen speechless when confused (due to strange incidents surrounding her). She also loses her head when given impossible orders (like drawing hair on a bald head) and accepts them while bewildered.
Gags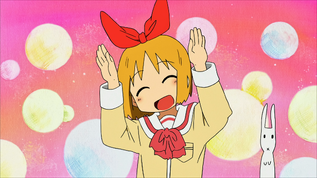 Annaka appears in gags that involve her being bewildered at commands given by other people in Tokisadame and school. Two of the gags occur in school, and both involve Nakanojou and Takasaki-sensei, where she is asked by Takasaki to draw Nakanojou's hair using a black marker pen when his hair was cut by Nakamura.
Trivia
She bears a resemblance to Tsukasa Hiiragi from Lucky Star, because both share a similar hairstyle and ribbon, although Tsukasa's hair is purple and her ribbon is yellow.
It is shown that she is skilled at handling a rifle in "episode 12".
Due to her typical comical reactions, many fans have affectionately given her the nickname of "Eh-chan".
There is a Annaka-Haruna Station (安中榛名駅 Annaka-Haruna eki) in the city of Annaka, Japan serving the Hokuriku Shinkansen.
Character songs
Image Gallery
Community content is available under
CC-BY-SA
unless otherwise noted.